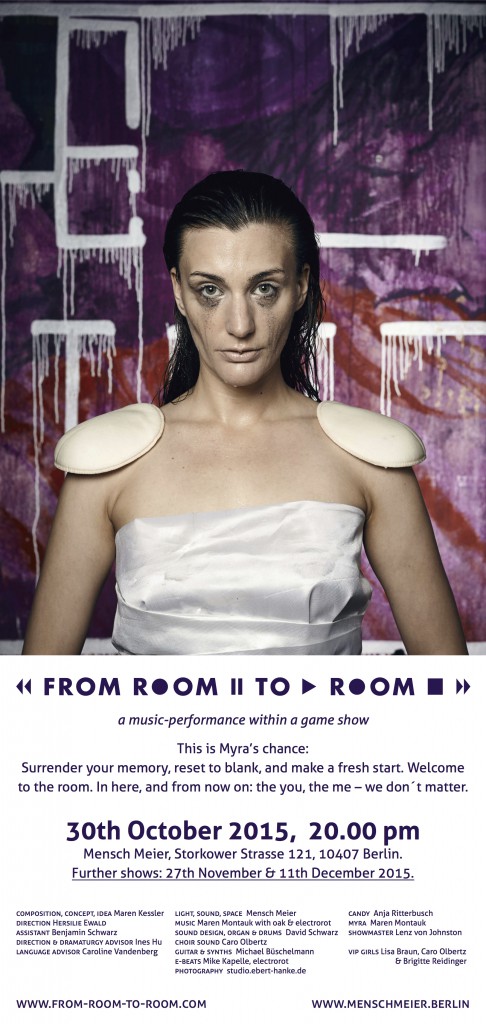 from room to room II
a music-performance within a game show*
concept, composition & idea Maren Kessler
direction Hersilie Ewald
assistant Benjamin Schwarz
direction & dramaturgy advisor Ines Hu
language advisor Caroline Vanderberg
light, sound, space Mensch Meier
music Maren Montauk with oak & electrorot
sound design, organ & drums David Schwarz
guitar & synths Michael Büschelmann
choir sound Caro Olbertz
e-beats Mike Kapelle, electrorot
graphic design Mensch Meier
photography studio.ebert-hanke.de
candy Anja Ritterbusch
myra Maren Montauk
showmaster Lenz von Johnston
vip girls Lisa Braun & Caro Olbertz & Brigitte Reidinger
This is Myra's chance:
Surrender your memory, reset to blank, and make a fresh start.
Welcome to the room.
In here, and from now on: the you, the me – we don´t matter.
*You Don't Know Candy – the Ultimate Game Show is back.
One candidate in a fight against the Room to win a million.
The Room will challenge you by creating a personal playground just for you, with no past and no future. Are you ready to handle the present?
The aim is to expose Candy and put her out of action for at least for 10 seconds.
Develop your own strategy, play your greatest roles and challenge your innermost desires and longings.
Each level that you will survive takes you closer to winning the million, but increases the risk that you will never return from the Room, because …
don't forget: You Don't Know – Candy!